I can't believe how easy it is to make all natural face powder. The recipe I found called for just three simple ingredients, which I already had in my kitchen.
This recipe was a happy find. And I couldn't wait to share it with my readers. That's because I'm constantly encouraging everyone to go natural, and to stop putting chemicals on their face.
That's what I've been doing for the last few years. My skin has thanked me for it.
After I stopped using these questionable products, I realized they were ruining my skin. They caused redness and flaking around my mouth.
The skin in that part of my face became really dry in the winter. The rest of my face was as oily as ever. But once I threw away my dirty "beauty products," my skin finally healed. Goodbye to these concoctions, no regrets.
There's growing evidence our beauty products may be hurting our health. At the very least, a class of compounds called parabens are found in nearly all personal care items that aren't made from natural ingredients and specifically marketed as paraben free.
We do know that parabens mimic estrogen. That's why they're often called "hormone disruptors." What we don't know is how risky these chemicals really are. It's been theorized they may promote breast cancer. But the connection hasn't been proven.
It's actually shocking when you realize just what we've been putting on our bodies. For instance, in the United States, it's legal to sell mascara with a little bit of mercury added.
Also, you can find lead, cadmium and other heavy metals in certain brands of lipstick.
When it comes to cosmetics, it's definitely a buyer beware market.
How to Make All Natural Face Powder
(This post contains affiliate links. If you purchase anything I receive a referral fee, at no extra cost to you.)
Regular face powder contains an array of potential toxins. These can include talc, which has been linked to ovarian cancer when used as a body powder after showering. The talc/ovarian cancer connection is well documented. Women who've developed ovarian malignancies after using talc products have even been awarded legal damages.
I'm using this as an example of how some of the beauty products we buy have an ugly side. They can make you sick.
How To Make Natural Face Powder at Home
As far as I'm concerned, if something can potentially cause cancer in one part of the body, I don't want to put it on my face. So if I'm going to use face powder, I'll either make my own or buy one of the non-toxic alternatives.
Commercial face powder is typically made with various fragrances. Knowing what I know about chemical cosmetics, I no longer see a need to use them. Drugstore face powder can also contain a compound known as dimethicone. This ingredient may aggravate acne.
Homemade Face Powder Recipe
A growing array of all natural face powders made with minerals and plant based ingredients have hit the market in recent years. These products are excellent. But it's also easy to make your own face powder you don't mind a little mixing.
How to Make Your Own Face Powder
Making my own face powder was easier than I ever could have imagined, especially since I already had all the ingredients I needed. The recipe came from the Wildly Organic/Wilderness Family Naturals website, which sells a wide range of USDA-certified organic herbs, powders, nuts and dried fruit at really good prices.
DIY All Natural Powder Foundation
So all I had to do was add the right proportions of cocoa powder, arrowroot powder and organic coconut flour.
I realize everyone may not have these ingredients at hand. We did because I need to stay on a gluten-free diet to counteract my chronic nerve inflammation. For one of the holidays, my daughter bought a bunch of gluten-free flours and made some scrumptious cupcakes. So I was able to locate coconut powder in one of our food bins. If you need raw coconut flour, and can't find it at your grocery store, it's available online.
Natural Face Powder Recipe
Anyway, since I had the ingredients in my house, all I had to do was a little mixing. Here's how to make all natural face powder with cocoa, arrowroot powder and coconut flour. Wildly Organic sells coconut flour at a really good price. Coconut flour is a commonly called for ingredient in gluten-free cooking.
1 teaspoon of raw organic cocoa powder. The amount might have to be adjusted, depending upon your complextion. So start light and darken if necessary.
1/4 teaspoon of organic coconut flour. (It's available here)
1 teaspoon of organic arrowroot powder. (It's available here) The recipe said you could use corn starch instead of arrowroot. But I didn't have any corn starch in the house. I'd probably have to order organic corn starch if that's what I was going to use. That's because nearly all of the corn in the United States is grown from genetically modified seed. (But not USDA-certified organic corn.)
Best All Natural Face Powder
Mix these ingredients together and store in a small glass jar that has a lid. You can use a fork to mix the powders together. Make this in small batches, since it will only last about two weeks, according to Wildly Organic/Wilderness Family Naturals. The original recipe called for less arrowroot powder. But I found I needed a full teaspoon. You will probably have to further adjust it for your own skin tone.
How to Make Face Powder With Flour
As far as I'm concerned, the best all natural face powder is one that you can make yourself. With coconut flour. That's because anything made from scratch is more cost effective than buying something already packaged.
Your family and friends will love your DIY cosmetic creations. I love to give away my extra beauty and personal care products that I make with essential oils and other natural ingredients.
If you end up with extra face powder, or you decide to make a double or a triple batch of all natural face powder, you'll find an amazing array of cute glass Mason jars that you can use to store your non-toxic face powder, along with personalized gift tags online, which you can see below. The jars can also be personalized, although that's not required.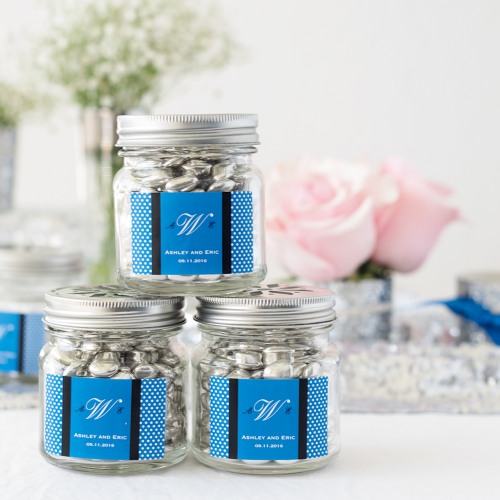 Personalized Cosmetic Jars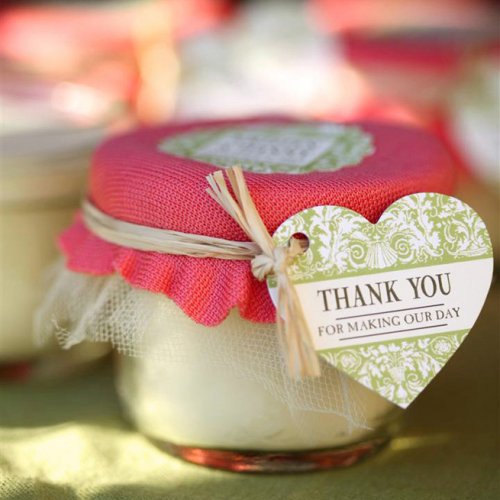 Personalized Gift Tags